There will be an Exhibit Hall open during The International Sound Healing Conference, November 10 -14, 2006. Visit the Exhibit Hall to experience exciting leading-edge technology, demonstrations in the field of Music, Voice Profiling, CymaScope, SCIO Biofeedback and many more.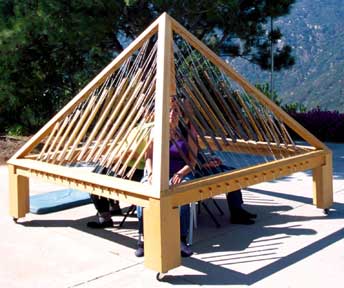 The Tama-Do Giant Sound Pyramid will be in the Mezzanine
EXHIBITORS:
Sound Health Research Institute - Demonstrations -
Sharry Edwards
Each person possesses unique harmonics of frequency that can be expressed through the voice. However, when these complex frequencies of the body become unbalanced, the voice primarily reflects this altered state, and the body manifests it as dis-stress or dis-ease at the structural and biochemical levels. Vocal Profiling, through computerized voice analysis, can provide the opportunity for SELF HEALTH by providing information, which can allow the practitioner and client to manage the approaching disease process before it becomes established.
CymaScope – Demonstrations -
John Reid
Experience the true nature of sound through the CymaScope. A 21st century electro-acoustics device, researching how sound creates form through vocal sound, natural sound, music, sacred language and how sound is influenced by sacred space.
Acutonics – Demonstrations -
The Acutonics Tuning Forks are used to correct imbalances, uncover emotions, stimulate growth, development, and transformation and facilitate inner harmony and wholeness.
All Acutonics Tuning Forks are of the highest quality, precision tuned and calibrated. These tuning forks are very low in alloys, they do not pit or loose their frequency, and are the highest grade available on the market. Designed for use on and over the body they provide a rich clear resonance and sustain their vibration for 25 to 35 seconds. These forks are accurate to the 100th Hertz. They are light, comfortable to hold, and color-coded for ease of use.
Essence/Quantum Biofeedback – Demonstrations -
Aaron Hemmen
The SCIO computer sends electromagnetic signals to the body. This effective Biofeedback tool can help address a myriad of physical and psychological issues affecting an individuals health and performance.
All cell lines in the body emit a particular frequency specific to the tissue or organ they inhabit. Heart cells are chemically, molecularly and thus electronically different than brain cells, lung cells or liver cells. SCIO detects minute abnormalities in each of these screened organs and corrects those signals by 'feeding back' to the body the proper electronic signals. Thousands of clients worldwide have used SCIO technology to detoxify the body, reverse the adverse effects of drugs, alcohol and environmental toxins and improve mental and emotional states of mind.
Harps of Lorien – Demonstrations -
Raphael
These instruments are blessed in the making, sanding, and finishing. It is in this phase that the beauty and grain of the wood comes alive and finds its voice. They are inscribed with mantras and prayers for peace.
His designs are flowing, sculptural and are works of art as much as playable instruments. Harps of Lorien provide Lyres, Lyre kits and the haunting Little Minstrel Harp, a portable instrument that can be played by virtually anyone to induce a quiet, meditational vibration. A line of Celtic or Folk Harps of different sizes, including two models of Travel Harps that fit in the overhead compartment of airplanes.
Spectrum Enterprises – CD Demonstrations -
Ross Barrable
The Wind Harp is a sensitive and responsive receptor for the music provided by nature. The strings are set into motion as a result of wind currents, which begin the interplay of sympathetic resonance between the strings. A visionary acoustic sculpture, combining the elements of art, sound, and science, to stimulate balance and well being for people and their surroundings. You will have an opportunity to experience recordings of the sound of the wind harps.
Crystal Tones – Demonstrations -
Crystal Singing Bowls, Alchemy & Classic Bowls, Silk Healing Scarves - Paul Utz & William Jones
These crystal singing bowls are made of the highest quality (99.992% pure!) quartz crystal, making them incredibly resonant. The tones produced by crystal bowls are not just heard by the ear, you feel them in your body, with certain tones affecting your energy centers (chakras) for healing, balancing & meditation.

Bodhisattva - Tibetan Singing Bowls – Demonstrations -
Shakti Gray
The Tibetan Singing Bowls offered by Bodhisattva are antiques from the Himalayas of Nepal and Tibet, and are between 100 and 400 years old.
Each special singing bowl has been personally selected in the Himalayas by Tibetan musicologist and recording artist Rain Gray who has been collecting, researching and recording Tibetan Singing Bowls for over 25 years.
Vibroacoustic.org - Sound Table - Demonstrations
Stephen and Deborah Deuel
Vibroacoustic Tactile Sound Tables incorporate a full spectrum of sound converting it into physical vibration. Utilized by Sound Therapists, Harp Therapists, Vibroacoustic and Vibrational Therapists and by Spas and Massage Therapists. Custom built Sound Tables offer benefits for owners and clients including stress and pain reduction, lowering blood pressure and increasing circulation using music and or specific sound frequencies.
Cutting Edge Technology -
Jules Klapper
Cutting Edge offer technological solutions to reducing environmental stress from the body. State of the art products for immune system protection: full spectrum lighting, water filters, air filters, bio-magnetics, EMF and geopathic protection, massage, environmental testing, vision therapy, light therapy, exercise equipment, supplements, negative ion generators, far infrared, magnets, and much more.
Aura Photo – sessions provided
Belle Star
Aura Photographs/Readings are a powerful aid to counseling or Life Coaching, greatly reducing the time needed to gain insight and perspective on one's life and goals.
The color, size, shape and intensity of your aura reveal your energetic "bank account," the nature and variety of your gifts. Compassion, vitality, empathy, curiosity, and healing energy are but a few of the qualities visible as colors in the auric field.
Astarius Reiki-Om – sessions provided -
Astarius
Sound is the primordial first cause of Creation. The Didgeridoo is a musical instrument of the Dreamtime and came into being through Tribal Aborigines. The Didgeridoo is played through circular breathing. Inhalation and exhalation are simultaneous, so the sound is continuous, echoing the Endless nature of Eternity.
Musical sound passing through the Didgeridoo, with the Intention to Heal, awakens the memory of Self beyond all pain and suffering.
Sound Mind and Body Healing Center – sessions provided -
Kevin Doheny
Using his extensive knowledge of sound and synthesis, and his knowledge of healing, Kevin uses an electronic keyboard to create music for altered states of consciousness, assistance in healing, and just plain fun! Utilizing sound as another tool in his healers toolbox, Kevin creates tapes or CDs custom-designed for his clients' healing needs.
Lynne Gnaizda Handwovens
While studying the healing arts and alternative healing modalities, Lynne began weaving clothing for your spirit, "prayer and meditation" shawls, using a luxurious fabric, rayon chenille. "I feel that art wearables should be comfortable and comforting," said Lynne.
Inspirations -
Donna Sessler
Beautiful and Inspiring Jewelry created to lift your spirit.
Tama-do Academy –
Fabien Maman
Get "tuned" with our Chakra Sound Tubes, Rainbow Etheric Essences, Color Scarves or tuning forks. Meet Tama-Do teachers and practitioners. See our Tama-Do Giant Sound Pyramid in the mezzanine...Tune with the season!
Flutes For The Journey –
Ingrid and Avi Burg
The sound of the flute has the ability to transform space and time, bringing a sense of peace and relaxation to both the player and listeners. Our bamboo flutes are based on instruments from around the world as well as unique and/or user friendly designs. We are happy to assist you in choosing the individual flute that is best suited for you in your journey.
Sound Listening Corporation –
Dr. Billie Thompson
A state of the art software technology that works on Windows XP and iPods. Dr. Thompson provides EnListen listening training programs directly to clients and Professional Training to Professionals.
California Institute of Integral Studies in San Francisco -
Sound, Voice and Music Healing - 200 hour Certificate Program
Holly Castrillon
A state of the art software technology that works on Windows XP and iPods. Dr. Thompson provides EnListen listening training programs directly to clients and Professional Training to Professionals. This 200-hour program from the California Institute of Integral Studies in San Francisco, offers an extensive study of sound, music, and chanting to support therapeutic and growth processes. Courses are offered mostly on weekends and integrated with advanced sound therepy technologies with ancient and shamanic music healing practices from indigenous and sacred traditions of sound healing. The curriculum was designed by Silvia Nakkach, MA, MMT, and the faculty includes pioneers and specialists in the field: Pauline Oliveros, David Darling, Glen Velez, Dr. Clive Robbins, Joshua Leeds, Dr. John Beaulieu and Don Campbell, among others. For more information: 415-757-6175 or www.ciis.edu/publicprograms