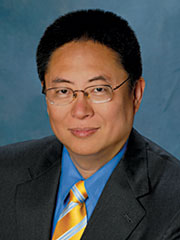 Dr. Zhi Gang Sha
Dr. Zhi Gang Sha MD (China)
Dr. Zhi Gang Sha is a physician, teacher and MD of traditional Chinese medicine.  He's founder of the Institute of Soul Mind Body Medicine and author of several books including Soul Mind Body Medicine: A Complete Soul Healing System for Optimum Health and Vitality and Soul Wisdom: Practical Treasures to Transform Your Life.
Dr. Sha is trained in the most advanced cellular healing science now occurring in China. He's also involved in research on the effect of spirituality on the human system. Dr. Sha and Dr. Masaru Emoto conducted research that demonstrates the powerful effect of Dr. Sha's healing techniques imbedded in frozen water crystals. The World Health Organization recognizes him for his breakthrough techniques in acupuncture.
Dr. Sha has appeared on numerous television programs and events such as the Wesak Festival, the United Nations Society for Enlightenment and Transformation, the Omega Institute and the Institute of Noetic Sciences.
www.mastershasoulsong.com and www.DrSha.com
Workshop: Bring Out Your Soul Song for Healing, Blessing and Rejuvenation
Monday, November 17 - 2:00 pm to 3:00 pm 3:30 pm to 5:30 pm
Soul Song is the voice of your own soul. It is your own soul mantra. Soul song has extraordinary power for healing, prevention of sickness, rejuvenation, prolonging life and transforming every aspect of life, including relationships, business and finances.
Why is your soul song so powerful? Soul song carries soul frequency. It directly communicates with the Divine and souls in the soul world. It carries love, forgiveness, compassion and light for healing and rejuvenation. Heal the soul first then the healing of the mind and body will follow!
Goal: To have everyone bring out their own soul song and apply it for healing, rejuvenation and life transformation for their selves, others, animals, plants, relationships, business, finances, etc.
Learning Objectives: To comprehend, apply and experience:
Soul song and what makes soul song so powerful,
How to bring out your own soul song, and

How to apply soul song for healing, rejuvenation and life transformation to serve others and yourself.