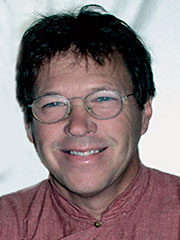 Richard Rudis
Richard Rudis
Richard studied Eastern philosophy for over thirty years. He is an American practitioner of the Vajrayana school of Tibetan Buddhism and a long time pilgrim of sacred sites and teachings across Asia. Richard was granted refuge in the Buddha from His Holiness Gyalwa Karmapa while in Tibet. He teaches Buddhist Dharma and conducts 'Vibrational Sound Healing Workshops,' using traditional Himalayan instruments. He is a researcher and writer on the subject of Tibetan Buddhism vibrational sound healing.
Evening Event: Sri Yantra  'Gong Bath:' A Sojourn into Vibrational Sound Healing
Monday, November 17 - 8:00 pm- 10:00 pm
The Gong Bath is a mind altering, dynamic meditation experience designed to soothe, inspire, heal and awaken spirit. It begins with the intrinsic harmonizing properties of ancient Himalayan Singing Bowls. The voices of the bowls pave a path into which the transformational sound waves of the Ghia Gong soon blends. This remarkable instrument is precisely tuned to match the vibratory signature of planet Earth in her oscillating dance with the Sun. Near eternal movements resonate at 136.1 Hz. the frequency of the 'Universal Chord,' AUM, the ancient syllable of creation. You will be bathed with rising and falling rhythms, tonalities and multi-tonal octaves that are naturally revitalizing in character.