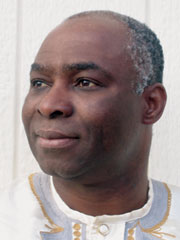 Onye Onyemaechi
Onye Onyemaechi, MBA
Internationally known for his healing, teaching and music, Onye guides individuals to a deeper understanding of their Self through the Grace of God. He brings the soul of African Culture to create and teach a blend of the best of traditional culture and modern life styles to individuals, organizations and the world. Onye is recognized as a pioneer in using music, rhythms and dance to bring diverse communities together and as a tool for personal and societal healing. He is a celebrated recording artist, performer, producer and composer.
Workshop: The Miracles of Music: Healing the Wounds of Our Times
Saturday, November 15 - 3:30 pm to 5:30 pm
The miracle of life and music came to be in the very same moment of creation. In the beginning was the Word—embodied sound—and then the word was made flesh.
All emerged from the Only One Source, issuing forth first as sound. That's why sound, as primal as ancient drumming, is such a powerful force for bringing people together and bringing people back to what's most real in themselves.
In the Miracles of Music, you'll experience the power of authentic African rhythm languages and dance patterns bringing you into community and true communion with others and yourself. Together, we'll explore the Mystery through drumming and dance, transcend fear, let go into surrender and reconnect to what is most healthy and holy. This experience, which generates compassion and peace, bridges cultures and promotes respect for others, evokes grace, and models positive life-affirming ways of relating.
Please bring your musical and rhythmic instruments such as hand drums, harps and bass guitar. Together, we'll celebrate life, peace, unity and community.
Please arrive on time. Session will be closed once it starts due to the deep experiential nature of this program.

Goal: To integrate the ancient wisdom of rhythm into modern society and to facilitate the experience of authentic African rhythm languages, patterns and techniques.
Learning Objectives:
To learn basic techniques and compositions with emphasis on the spiritual and healing components of drum rhythms and trance states and the influence they exert on every day life,
To learn to develop intuitive improvisation and the attitude of native musicianship while having fun making joyful music, and

To rediscover the Mystery through music and how it heals your world and that of others.

Evening Event: The Village Rhythm Experience
Feel the joyous pulse of hypnotic rhythms, the spirit of drumming, singing and dancing with this African master drummer. This participatory event promotes physical, mental and emotional health, self-expression, and building community.