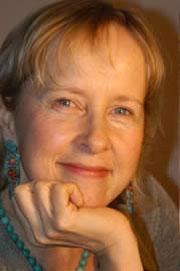 Chloe Goodchild
Chloe Goodchild
Chloe Goodchild is founder of The Naked Voice and its charitable foundation, dedicated to healing the divide between silence, speech and song.  Since deafness in childhood, Chloe began a life-long journey to find ways to express herself and to help others in the same process. The 'naked' voice - or real sound, prior to the social or personality voice - was the outcome and treasure of this process. She created a method of communication, and effortless expression that enables singers and non-singers alike to access their true sound, from a deep and non-judgmental listening, sourced from silence.
Chloe's teaching and performance has been informed by an experiential research of East -West voice and sound practices, following travels in Africa, India, Turkey, Europe, USA and Canada. She has sung for HH Dalai Lama, the Way of Peace in Northern Ireland and many other events. Her CD, Fierce Wisdom, features her world anthem, Singing Field. She has recorded with several major film, jazz, contemporary and classical musicians and composers. Chloe has recently published two Naked Voice teaching or "home learner" CD-DVDs, Your Naked Voice and Awakening Through Sound. Following her book The Naked Voice, Chloe is presently writing a new book, Sound Intelligence, to be published soon.
Workshop: Sound Intelligence: Awakening through Sound
Tuesday, November 18
10:45 am to 12:00 pm
Sound Intelligence brings a fresh understanding to the significance of sound and voice, as humanity's most intimate, sustainable and renewable resource for the 21st century. As unique as our DNA and finger print, our human voice can bring us into a direct encounter with our true nature, prior to rational thought, accessing a depth of self-awareness and compassion that is life-changing.
Our sound intelligence engages us in a new language of consciousness, rooted in the perennial wisdom, prior to religion, politics and law. It restores our capacity to unearth the wisdom of oneness, older and deeper than the polarity of all conflict.  Through a re-definition of the true purpose of sound and song as a wisdom language for our time, Chloe demonstrates the power of our sound intelligence to transform negative conflict or dissonance into a resonance with life, personal and universal. This courageous, rewarding process bridges our inner life with our outer world.
Goal:To introduce vocal practices and energy movements that access 3 realms of self-awareness through sound awareness:
Learning Objectives:To facilitate a direct experience of Sound Intelligence, as a wisdom language for our time.
Contemplative love, an impersonal, benignly disinterested love, rooted in the unchanging world of silence and the inner life, accessed through sacred chant and mantra, and deep non-judgmental listening,
Creative Love, an engaging personalized love, rooted in the ever-changing complexities of the passionate imagining mind, accessed by the Seven Sounds of love, or musical chakras, and

Compassionate Love, an all-inclusive transpersonal love, rooted in an unconditional regard for the well being of humanity, transforming negative emotions into positive human feeling, accessed through the 7 musical modes and the Singing Field anthem.