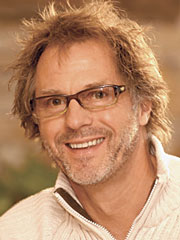 Toby Christensen
Toby Christensen
"Change Your Rhythm and Change Your Life" is the foundation of Toby's healing therapies, teachings and music. Known as The Healing Drummer, Toby is a recognized expert and innovator in the field of healing music. Part rock drummer/part ancient healer and a bundle of kinetic joyous energy, he uses the drum to create a force that disrupts unhealthy patterns and then combines elemental rhythms to restore and realign the mind, body and spirit. He travels across the country reaching thousands of people through his healing sessions, drumming circles, workshops, and interactive concerts.  A childhood drumming prodigy, he grew up playing in professional bands.
After becoming a pastor he became disillusioned with the big business of religion. He found success as a senior executive for a major corporation and then as an entrepreneur with a successful line of coffee stores.
Toby then began intensive study in both Healing Drumming and Shamanism. He went to Africa to study with the Dagara of Burkina Faso. He also studied Native American Drumming at the Foundation for Shamanic Studies.
Toby has authored books and articles and recorded many CDs. He is the inventor of Sound Attunement Therapy. His latest therapeutic invention is the Crystal Healing Bed, an amazing construct of copper, crystals, and sacred geometry that intensifies the healing forces of the drum. Toby has just introduced the 5 Element Drumming DVD and CD where he teaches you how to use your drum as a tool of personal empowerment and sharing the meaning of the 5 Elements of the Dagara West African Medicine Wheel.
Workshop: Five Element Drumming: Rhythms for Transformation
Sunday, November 16 - 10:45 am to 12:00 pm
This workshop is an in-depth exploration of the ancient five elements of the African Dagara Medicine Wheel that will help you energize, empower and balance your life. Toby will explore in depth the teachings and rituals of each of these elements, as well as the specific drumming rhythms associated with each of these elements. Learn how each of us is inextricably linked to a certain element by birth, and how you can use this knowledge to balance your own energy and life.
Goal:
Learning Objectives: To master the 5 Element Rhythms bringing balance and healing to your personal and professional life.
To develop basic skills of drumming to facilitate the release of stress, increase relaxation and create new emotional patterns,

To achieve balance and understand how harmful patterns affect an individual and how to implement simple exercises to immediately support healthy activity, and
To integrate the exercises and information into personal and professional lives creating a happier and healthier lifestyle.