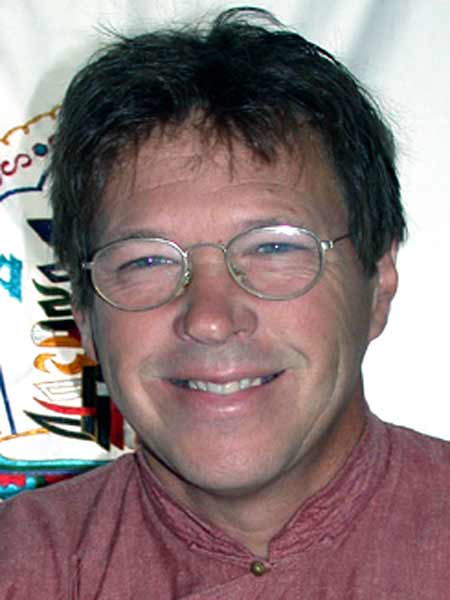 Richard Rudis
Richard Rudis (Karma Sonam Dorje), has been studying Eastern philosophy and Tibetan Buddhism, in the Himalayas and the USA, for over 25 years. He is an American practitioner of Vajrayana Buddhism and while on one of many pilgrimages in Tibet was honored with refuge in the Buddha from His Holiest the 17th Karmapa, Trinlay Thaye Dorje, the spiritual head of the Karma Kagyu tradition of Tibetan Buddhism.
He has been teaching Buddhist Dharma using the vehicle of vibrational healing workshops for nearly 20 years. Through the organization he founded, Illuminarium, he offers State- recognized certification programs in Vibrational Healing via the exclusive use of Himalayan (Buddhist) Sacred Sound Instruments.
On a more mundane level, he has studied engineering, holds degrees in Social Sciences, Fine Arts and English. He has worked as an architectural engineer, university teacher, guest lecturer, business owner, ships documenter, world traveler, pilgrim and photographic artist. As a Buddhist scholar, he has studied with Robert Thurman, Lama Surya Das, the Venerable Drubthob Rinpoche, H. H. Dalai Lama and others.
Workshop: Sacred Sound/Vibrational Healing Gong Bath: A Sojourn into Vibrational Sound Healing
A 'Bath' is an unforgettable event to soothe, inspire, heal and awaken your spirit. It begins with the intrinsic harmonizing properties of the Himalayan Singing Bowls & other Buddhist ritual instruments. The voices of the Bowls calm and center; paving a path into which the transformational sound waves of the Gong blend. The participant is bathed with rising and falling rhythms, tonalities and multi-tonal octaves of healing vibrations. The Gong is precisely tuned to match the vibratory signature of our planet Earth (Ghia) as she journeys with the Sun (Sol). Their dance produces the sound of AUM; the 'Universal Chord'; the ancient syllable of creation. The harmonic, sometimes piercing, resonance reduces stress and induces natural healing physically, mentally and spiritually. Individuals are asked to assume a meditational position or to lay on the floor with their crown chakra towards the Gong.
Goal: The purpose of these instructions is to teach the proper use the Himalayan Sacred Sound Instruments to alter consciousness and to stimulate physical healing.'
Learning Objectives:
· Fundamental introductions on Tibetan Buddhist Dharma teachings, prepared especially for the Western mind, are provided within the context of the sacred vibrational instruments and their therapeutic usage, and
· Introduction on the Himalayan sacred metal instruments with focus on their cultural and historical foundations, creation and usage, and
· Experiential demonstrations of practical vibrational medicinal techniques including Tingshaw diagnostics, Ganta/Vajra treatment layouts (for the purpose of motivating and advancing the healing process), as well as Himalayan Bowl patterning (for the purpose of altering consciousness, balancing brain functions, promoting internal harmony and to initialize physical healing at the cellular level).