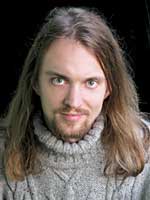 Leonid Sharashkin
Leonid Sharashkin, PhD
Dr. Sharashkin is a researcher in alternative forestry, organic gardening, and man-nature relationships and proponent of father-assisted homebirth. Formerly, Program Manager at World Wildlife Fund in Russia and editor of Russia's largest environmental magazine, Leonid translated into Russian a number of books, including Tompkins and Bird's The Secret Life of Plants and Leboyer's Birth Without Violence. He is editor of the Anastasia series of books, Ringing Cedars by Vladimir Megré.
He received his PhD in Forestry where he completed a dissertation on the socioeconomic and cultural significance of organic gardening.
Workshop: Re-Creating a Garden Planet: Psychology of Humanity/Earth Co-Evolution
Monday, March 30 - 10:30 am to 12:00 pm

Every living being transforms its environment and is changed by its environment. Over the course of the past millennia, humanity has evolved under the influence of the artificial world we ourselves have created. The result is the loss of health and wellbeing for humans and the destruction of natural ecosystems. Today's challenge is to find a self-reinforcing course toward making the Earth healthy and beautiful once again, which in turn will produce a most beneficial influence on humanity.
Goal: To understand how interaction with nature fosters health and psychological wellbeing.
Learning Objectives:
To explore physical and psychological mechanisms of Man-Earth co-evolution,

Question the forces that put humanity on the path toward self-destruction, and
To find practical ways to apply this understanding in everyday life.
Workshop: The Eternal Cycle: Birth and Fertility in Nature and Human Experience
Monday, March 30 - 3:30 am to 5:00 pm

Birth and fertility are among the most transformative human experiences, as they reconnect us with the universal natural cycle of birth, death and rebirth. In traditional cultures, physical and psychological closeness to the miracle of fertility produced a rich and fulfilling existence. In our modern civilization, this link is broken and as a result we deprive ourselves of key life experiences.
Goal: To search for ways to restore the fertility link in Human/Nature experience.
Learning Objectives:
To explore the connection between human fertility and that of nature,

To examine the psychological role of birth for the family and humanity as a whole, and
To discuss practical ways to integrate this understanding into our lives.