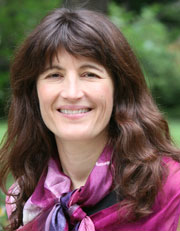 Diane Hennacy Powell
Diane Hennacy Powell, MD
Diane is a neuroscientist, graduate of Johns Hopkins University School of Medicine, former faculty member in psychiatry at Harvard Medical School, and former member of a think tank on consciousness at the Salk Institute. She left mainstream academia after concluding that its understanding of consciousness was incorrect. She developed her own model to explain anomalies such as out-of-body experiences and psi. She has served as the Director of Research at the John Mack Institute. She is the author of The Esp Enigma.
Workshop: The ESP Enigma: An Integrative Model for Understanding
Sunday, March 29 - 2:00 pm to 4:00 pm

The mainstream science model for the brain and consciousness fails to explain autistic savants, psi and out-of-body experiences. These were all clues for developing an integrative model for the brain and consciousness that incorporates information from neuroscience, parapsychology and physics. We'll challenge assumptions and answer previously unaddressed questions, but most of all you'll learn about the infinitely fascinating subject of mind and does our mind create the physical world or does the physical world create our mind? We'll review the past century's research on psychic phenomena (telepathy, precognition and psychokinesis).
Goal: To become familiar with the evidence for psi; the mainstream model for the brain and why it makes psi impossible, and my scientifically-based model that makes psi not just possible, but probable.
Learning Objectives:
To learn the necessary fundamentals of neuroscience and physics so that no science background is necessary,

To discover why some people have more psychic experiences than others and what these experiences and physics tell us about the nature of reality, and
To provide mental health professionals with ways to interpret and respond to reports by clients of psychic experiences.