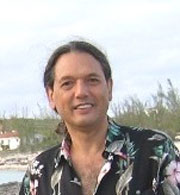 Ernesto Ortiz
Ernesto Ortiz
A noted healer, Shaman, writer and artist, Ernesto has devoted his life to exploring and communicating the language of the heart, primal movement and deep inner spaces.  He is the creator of D.R.E.A.M Catcher (a structure used for healing that uses Sacred Geometry and Vibroacoustics). During the past 25 years, he has taken thousands of people on a journey from physical and emotional inertia to the freedom of ecstasy, from the chaos of the chattering ego-mind to the blessed emptiness of stillness and inner silence. Cultures are no barrier as he has presented seminars and intensives in Canada, Europe, Australia, Egypt, Bali, Latin America, the Caribbean and the USA.
Ernesto is the founder of Journey to the Heart, author of In the Presence of Love, The Akashic Records Level I, Tantric Shamanism, The Art of Relationships and others.
Workshop: Sacred Geometry and Light Language: The Art of Co-Creation
Wednesday, April 1 - 10:45 am to 12:00 pm

Sacred Geometry is a Pathway to Understanding who we are, where we are from and where we are going. It is a blueprint of creation, an interface between the seen and the unseen, the manifested and the un-manifested, the finite and the infinite.

Sacred Geometry is a "caught" teaching; it cannot be learned just by reading a book or by watching a video. To truly learn Sacred Geometry and Light Language one must sit with a teacher.  The student subconsciously absorbs and assimilates thousands of pieces of information per minute caught from the teacher's energy field.

Light Language is passed down from ancient Healing Masters. We use Sacred Geometric shapes and colors to write energetic grids.  Grids can remove blocks, change patterns, facilitate healing, change the energy of your healing workspace and attract prosperity.

Sacred Geometry is about understanding how geometry is present in all aspects of life, and how this affects us, understanding how shapes and colors are present in our life and how we can utilize them to become a true co-creator of our reality.
Goal: To have an understanding of how to utilize Sacred Geometry in your daily life, how energy grids are created and how they come to support every aspect of your life.

Learning Objectives:
How to emanate Shapes and colors

How to put stationary Grids around objects
 How to send a Grid to someone
How to write a 7 shaped Grid and install it
How to combine Sacred Geometry with other Healing Modalities
This workshop is experiential. Please bring pen or pencil and be ready to participate!