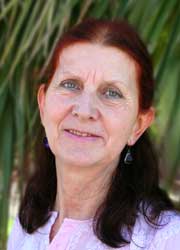 Tiyana Maksimovich-Binno
Tiyana Maksimovich-Binno
Tiyana is an energy reader, healer, naturopath, homeopath, herbalist, body worker, neuro-linguistic programmer, life coach, and researcher of socio-ecological, psycho-somatic and spiritual blueprint energy dynamics. She is trained in telepathy, distant and spontaneous healing, mind-body-spirit intelligence and past lives. She founded Holistic Healing Circle and writes PhD thesis on Pristine Self's Revival by Integrative Healing Epistemology.  She contributed to Social Developers Network. She has been an architect, and town and regional planner.

Workshop: Reading and Healing the Energy Blueprint – Integrative Pristine Self's Epistemology and Healing for Sustainablity
Tuesday, March 31- 10:30am to 12:00pm
Tiyana provides case studies of effective healing that involve:
•    Reading specific energy patterns by using a natural sensory-based, integrative Pristine Self's Epistemology 
•    Working with inner and outer material and subtle individual and collective causal factors
•    Documenting the power of the healing intention when working in conscious partnership with the unknown
•    Identifying the whole Truth by its integrative healing effects
•    Healing mental, emotional, physical, physiological, psychic and spiritual ailments, including 'incurable', e.g. gangrene
•    Healing irrespective of one's state of awareness, beliefs, attitudes, type and duration of the problem
•    Spontaneous healing of issues not mentioned to the therapist
•    Communication and healing at distance
Her presentation includes lecture and time for questions and answers.
Goal: Reclaiming one's inherent, direct and spontaneous healing Pristine Knowing of the energy blueprint.
Learning Objectives:
To document the accuracy of holistic energy reading as healing for all kinds of problems,
Healing by embracing a holistic, educative epistemological partnership with the unknown, and
Identifying the Pristine Self's integrative intelligence as path to living, healing truth and sustainability.