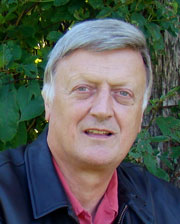 Miceal Ledwith
Miceal Ledwith, L.Ph. L.D., D.D., LL.D
Dr. Ledwith served as a Catholic priest and consultant to the Vatican Congregation for Education, as well as being a Professor of Theology. His research interests have been in the areas of theology, summed up by the four great questions, "Who are we; where did we come from; what should we do, and where are we going?" None seemed to give any convincing information about what awaits us after death, what we should do while here that will help in some sense our spiritual development, and above all, there was no information whatever about what precedes life here on earth. It was at this stage that he found the teachings coming from Ramtha's School of Ancient Wisdom. He discovered the many gaps in knowledge and the even greater gaps in experience in the existing world religions. He has actively studied at Ramtha's School for many years. He was one of the scholars featured in the movies What the Bleep Do we Know and its sequel Down the Rabbit Hole.

He is currently producing a DVD series entitled Deep Deceptions. His next book Forbidden Truth, Part One: The Other Side of Jesus is planned to appear in 2009.

Workshop: Orbs: What They Tell Us About the Human, the Universe and the Everyday Manifestation of Personal Reality
Saturday, March 28 - 10:45am to 12:00pm

Drawing on the largest collection of orb pictures in the world the presentation unfolds the enormous consequences that follow from understanding the human as a seven-layered entity.  It enables us to see the universe as a frequency based system and how we can break the 'trance of scarcity' in which we have always viewed it.  This opens the way to a very different way of understanding how the quantum field can be programmed so as to experience the things we would like to see in our lives and remove those we don't want.  It explains how so many of our self-improvement efforts fail so badly without us ever really knowing why.

Goal: To understand why our efforts at self-improvement fail so frequently and how to correct the situation.
Learning Objectives:
To use the phenomenon of orbs to unveil those aspects of the human person that relate to other dimensions of reality.

To accomplish a better understanding of how the universe is structured, and how our interaction with it can be optimized, and
To better understand how the manifestation of everyday reality is accomplished and to learn to recognize the many blocks we place in the way of this, usually unconsciously.