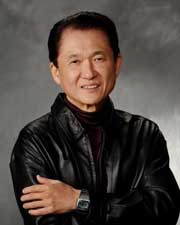 Leo Kim
Leo Kim
Leo Kim is a physical organic chemist, molecular geneticist, CEO of a biotechnology firm and spiritual healer utilizing hypnosis, guided imagery and meditation. His hobbies include reading theoretical physics and cosmology. Leo has been involved in the international food industry and in health care consisting of numerous clinical trials of new pharmaceuticals and nutriceuticals. He has over 50 patents and scientific publications. Recently he was on coast-to-coast radio and is the radio show host of The Leo Kim Show on HealthyLife.net Radio Network.  Leo is the author of Healing the Rift: Bridging the Gap Between Science & Spirituality.
www.healingtheriftbook.com Radio Show
Workshop: Bridging the Gap between Science and Spirituality
Sunday, March 29 - 10:30 am to 12:00 pm

Does science have the answers to the big questions: Where did we come from? What is life? How did life originate? How can mind and consciousness emerge from body and brain? What happens after death?

The standard model of physics cannot explain our world so scientists are scrambling for new theories. Scientists are struggling to explain and justify seemingly bizarre concepts such as inexplicable hidden dimensions, parallel universes, dark matter and dark energy. The new scientific revolution resulting from these radical ideas is the greatest perturbation in the history of science.
Dr. Kim gives a captivating lecture about scientific and spiritual concepts merging in the 21st century.

Goal: To heal the rift between science and spirituality.
Learning Objectives:
Explore the big questions about life, death and the universe with a new perspective—our universe is mental and spiritual,

 Discover why and how scientists are accepting ancient spiritual "truths", and
Appreciate the smallest pieces of the universe.