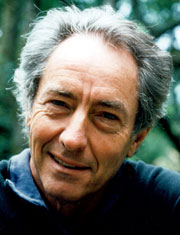 Sam Keen
Sam Keen, PhD
Dr. Keen states, "I was over educated," at Harvard and Princeton and was a professor of philosophy and religion at various legitimate institutions for 20 years before becoming a contributing editor of Psychology Today. He is a freelance thinker, lecturer, seminar leader and consultant. Dr. Keen is the author of a bakers dozen books, a co-producer of an award winning PBS documentary, Faces of the Enemy. His work was the subject of a PBS special, Bill Moyers--Your Mythic Journey with Sam Keen.

When not writing or traveling around the world lecturing and doing seminars on a wide range of topics, he fiddles with growing things on his farm and practices the flying trapeze.
Keynote: Consciousness and the Mythology of War
Tuesday, March 31 - 8:45am to 10:00am

We are biomythic animals and our habit of war is embedded in a complex social and political creation that satisfies many social, political and psychological needs not normally acknowledged by "good" people. To break the hypnotic
power of the warfare system we  must  explore our cultural fascination with the myth of redemptive violence, deconstruct the  myth and unmask the hidden appeals.
Goal: To break the hypnotic power of the warfare system.
Learning Objectives:
To explore ways to deconstruct the fascination with war and violence,

To reveal the political and psychological needs of violence and war, and
To explore our cultural piquancy with the myth of redemptive violence.
Workshop:Exploring the Moral and Erotic Alternatives to the Warfare System
Tuesday, March 31 - 2:00pm to 3:30pm and 4:00pm to 5:30pm

Our only hope of waking up from the "nightmare of history" is to replace the warfare system with an equally complex system aimed at providing alternative ways of satisfying basic needs for identity, meaning, heroism,  belonging, adventure, rites of passage for men and women, etc. This workshop will involve a power point presentation of the iconography of war that reveals the hidden appeals of violence and warfare and an exploration of the possibility of creating what William James called, " a moral  equivalent of war."
Goal: To show the ways in which the mythology of warfare keeps us unconscious of the many needs that violence fulfills.
Learning Objectives:
To make conscious the unconscious myth that supports the warfare system,

To raise questions about the relationship between therapy and the unconscious aspects of our political system, and
To suggest ways in which moving beyond the mythology of warfare may give purpose and meaning to the life of the individual.