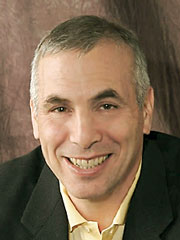 Michael Gelb
Michael Gelb
a pioneer in the fields of creative thinking, accelerated learning, and innovative leadership. He is known as the world's leading authority on application of genius thinking to personal and organizational development.
Gelb ignited the current fascination with all things Da Vinci with his How to Think Like Leonardo Da Vinci: Seven Steps to Genius Every Day, which has been translated into 25 languages. Gelb's Da Vinci Decoded and his recent The Spirit of Leonardo tap into the seven Da Vinci principles to show readers how to cultivate spiritual intelligence. His latest book, Innovate Like Edison: The Success System of America's Greatest Inventor is co-authored with Sarah Miller Caldicott, the great grand niece of Thomas Edison.
Workshop: The Spirit Of Leonardo: Create Your Own Spiritual Renaissance
Saturday March 28 - 10:45am–12:00pm

Leonardo da Vinci's greatest masterpiece isn't hanging in the Louvre. His finest legacy was buried amongst pages upon pages of notes in his journals. There, Gelb discovered seven practical principles that will empower you to think like this great innovator. You will be privy to the inner workings of da Vinci's mind and the depth of his spiritual insight and learn how to approach your own life with the same wisdom, awareness and perception.
Widely regarded as the world's ultimate genius, Leonardo da Vinci possessed an indomitable spirit and an insatiable desire to enter into the heart of creation in order to understand the mind of the divine. These guiding insights will help you bring more efficient problem solving to your work, enliven and strengthen your relationships and ignite your own spiritual renaissance. The Spirit of Leonardo invites you to enter the realm of endless potential. You will be infused with this timeless inspiration as you create your own magnificent masterpiece—your life.
Goal: Learn to think and create like Leonardo da Vinci.
Learning Objectives:
Understand and apply 7 principles for thinking like Leonardo,
Discover how Leonardo's art reflects his spiritual vision, and
Learn how to map your life goals based on the Maestro's methods.