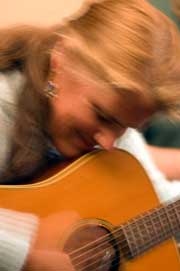 Laurianne Fiorentino
Laurianne Fiorentino
Laurianne Fiorentino has been described as the Georgia O'Keeffe of music. The powerful internal world she writes from has no address – the messages sparse and universal. Her concert "Interview With The Planet" suggests a parallel communication where interpersonal longings and conversations can be experienced as whisperings between a person and the Planet Earth, Herself. Laurianne's use of language has a literary quality rarely found in the modern world of songwriting. With a guitar played like a drum, a bass and a bell she creates multi-layered rhythms to build songs concerning deep, driving forces. Fiorentino uses a broad, deep voice which at times sounds rough and ready, at others, soft and lush like a long velvet dress. She coaxes mystery out of ocarinas and bamboo flutes. Laurianne is a consummate performer and entertainer who will bring you through trances and giggles and leave you feeling refreshed.
Laurianne Fiorentino has been nominated for several awards and has toured internationally with CD recordings of live vocal performances as a solo and with a trio (piano-trumpet-drum, and cello). She also released an improvisational CD of bamboo flute and cello.
www.myspace.com/lauriannefiorentino
Lunchtime Concert: Interview with the Planet
Monday, March 30 - 12:45 pm to 1:30 pm
Music may be one of the purest marriages of science, emotion and spirit. Laurianne Fiorentino's guitar, voice, bamboo flute and ocarina will take you through stunningly original lyrics, complex rhythms, honesty and (surprisingly) hilarity – almost at once! You are gently guided from the everyday to a plane of beauty and understanding that represents the possibility of the psycho-spiritual worlds we all seek with our beings.