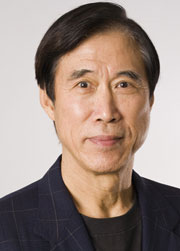 Master Li Jun Feng
Master Li Jun Feng
Li Jun Feng is a master of qigong who focuses on both the physical and spiritual aspects of this ancient practice.  Master Li is the former Dean of the Medical Qigong Program at the Academy of Oriental Medicine. He is also the head of the International Sheng Zhen Society Foundation.  For more than 15 years, he was head coach for the Chinese National Wushu (martial arts) team, and achieved fame as a martial arts film director and movie star.  Since 1992, he has devoted his life to sharing Sheng Zhen and serves as advisor to the World Academic Society of Medical Qigong in China.
He is author of Sheng Zhen Wujiyuan Gong – A Return to Oneness, Sheng Zhen Healing Qigong, Sparring with Long Fists and Single Broad Sword/Spear, Learn Wushu Series and Martial Arts on Ba Gua Zhang.
Morning Classes: Sheng Zhen Qigong
Saturday, March 28 through Wednesday, April 1 - 7:30 am to 8:15 am

Workshop: Awakening the Soul
Sunday, March 29 - 10:30 am to 12:00 pm
The soul is the vehicle of the spirit in this realm.  The clarity of the soul reflects the stillness of the spirit. Quality of life in this realm is determined by the state of the soul and spirit.
It is possible to reconnect with one's original state at birth. Through the practice of Awakening the Soul, all people may experience the opening of the heart, the freshness of returning to the beginning and the simplicity of once again becoming one with nature and the universe.  Then, all can experience true love, understand life and enjoy life fully - body and soul!
All body types and fitness levels including beginners, the physically ill, advanced and fit practitioners are welcome.  Health care professionals and body therapists can incorporate Li's qigong into their practice.
Goal: To learn the practice of distinctive movements for the cultivation and mastery of qi, or life-force energy.

Learning Objectives:
Integrate and describe the essence of the spiritual healing tradition,
To internalize and reproduce the 10 movements with precision,

To articulate how Awakening the Soul Qigong uses the principles of mind-body medicine to facilitate healing, allowing the qi to directly enter and nourish the blood and acupuncture meridians in the human body and assist in the removal of negative emotions such as worry, sadness, anger, nervousness, fear, anxiety and also disease,
To analyze how this practice cultivates health and wholeness through opening the heart, elevating one's spirit and tapping into universal, unconditional love, and
To utilize these qi-building exercises to improve health and facilitate healing.