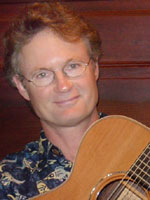 Greg Tamblyn, NCW
(No Credentials Whatsoever)

If laughter is the best medicine and music is the universal language, singer/songwriter Greg Tamblyn has a license to heal anywhere in the world. Greg combines outstanding audience rapport with an irreverent sense of humor. He has a special interest in the relationship of music, laughter and lifestyle to physical, emotional and spiritual well being. His humorous musings on cultural absurdities, as well as his messages of optimism, love and gratitude, have garnered him a large international following.

Greg's songs range from inspiring stories about the power of the human spirit, (Stand Like Mountain, Move Like Water) to off-the-wall send-ups of modern life, such as The Shootout at the I'm OK, You're OK Corral, My Life is a Beer Commercial and Type A-Ness.

Sunday, April 23
If Electrons Can Be Two Places At Once, Why Can't I?
-Greg Tamblyn-
Ballroom 8:00pm - 10:00pm

With songs, humor, and other suspiciously healthy forms of creativity we'll explore the power of stories to create our reality. We'll have some fun with the dis-empowering cultural stories we're bombarded with, and finish with a cosmic group experience. Warning: Big Fun!

---