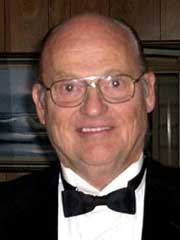 Arthur Harvey
Arthur Harvey, MM, DMA
Throughout his 47 years as a music educator, Dr. Harvey directed his energy and interests in three areas:  (1) school music, with an emphasis on special needs students,  (2) church music, and (3) health care music.  He received a D.M.A. from Temple University and pursued post-doctoral studies in several areas related to music. He is internationally known as an authority in music for special needs individuals, music and the brain, music and learning, and music and health.

Dr. Harvey's broad background in music education has included experience as a concert and marching band director, orchestra conductor, choir director, recording artist, University Professor, general and special education music education teacher, a speaker and consultant in the fields of Music and Education as well as Music for Health Services/Therapy/Medicine.
Dr. Harvey is featured on a video series, Music and the Brain, released a CD of Music for Health and Wellness, and coauthored a book and CD, Learn With The Classics. His recent book, A Journey Of Explanation: A Roadmap To Understanding Music and The Brain, covers his research on music and the brain. He has published many articles, authored chapters in several books, and coauthored several training manuals in music for special needs individuals.

Workshop: Music: A Prescription For Stress
Saturday, November 15 - 10:45 am to 12:00 pm
A multi-media presentation about the significance of managing stress in our lives. Learn more about the physiological and psychological benefits of music and sound in stress management.  Experience stress management techniques that utilize music and develop an understanding of the processes and results of not managing stress. Come and be educated, entertained and entrained with music and information that will enhance your life.
Goal: To provide an overview of physiological responses to music that complement known psychological benefits of music in stress management.

Learning Objectives:
To present important information about the impact of stress on human functioning,

To examine physiological responses to music, and
To explore several stress management approaches using music.